PRVT Party Tips and FAQs
Getting Started
You can start your search from the Venues tab, or from My Events. We've got a map view and a list view.
Use our filter (the funnel in the upper right-hand corner) to choose basic or detailed search parameters.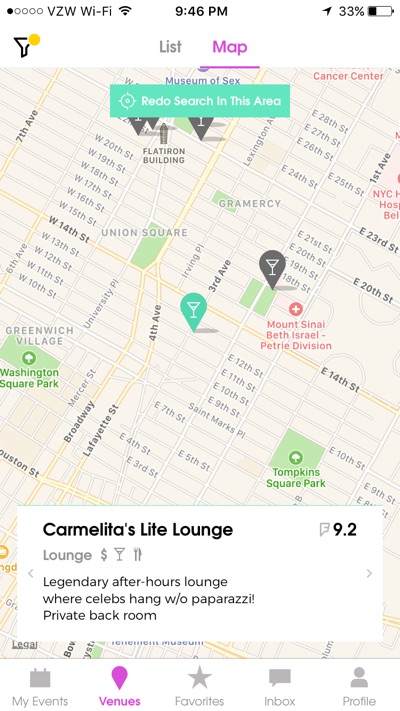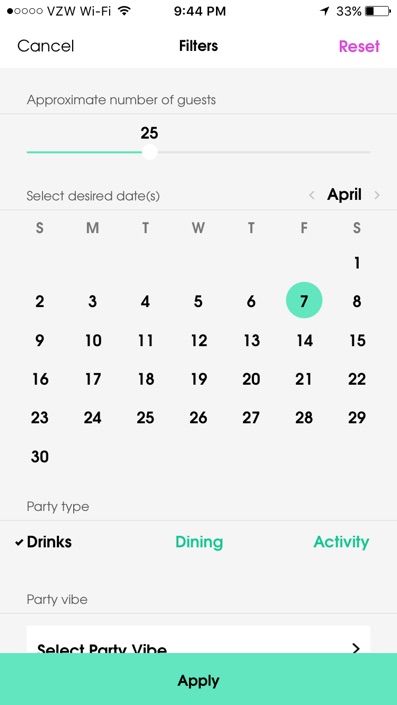 Enter the approximate number of guests and your preferred dates and neighborhood into the filter. You can also filter by type of event (Drinks, Dining or Activity). If you have more specific parameters, you can use our more detailed filters (like Cuisine, Type of Venue, Outside Birthday Cake Allowed, Cost, etc.)
All of our venues have been curated to make sure they are a great place to host a group event! Most have private or semi-private areas that will make your event feel like it's been hosted in your own space – just like your living room, but without the clean-up!
Pick a few venues that look promising. You can send booking requests to multiple venues, and get multiple offers. You're not committed to any booking until you actually accept one of the offers. If you've entered parameters into the filter, all booking requests will include your preferred dates and group size, and whether it's a Drinks, Dining or Activity event.
You can also search by activity. Get inspired by our activity venue choices: from old standbys like karaoke, bowling and ping pong -- to things you don't normally think of, like group painting with wine, shuffleboard with your own cabana, cooking classes, or your own dance party.
Offers
After you send a booking request, you'll have an opportunity to ask follow-up questions and use the in-app chat to communicate with the venue. Once you've both settled on a date and time and other terms, the venue will send you an offer.
When you receive an offer, it will clearly state all payments, fees, extras that you might be expected to pay or commit to upfront. We have several types of bookings:
No venue-fee bookings. Some venues will let you book a space or room without any financial commitment. You just need to commit to showing up with a certain number of people.
Hourly fee bookings. These are also known as Venue Rental Fee bookings. These are for venues that need to charge any hourly fee to reserve a private room, or for some activity (like bowling, karaoke or shuffleboard). These bookings usually don't require any other commitment, like a minimum spend requirement. The hourly fee must be paid upfront in order to secure the booking, but you'll get a full refund if you cancel during the full-refund cancellation window (see below).

Minimum spend requirement. These venues are in high demand or require more prep to get their spaces ready. You'll need to make a commitment to spend a certain set dollar amount in order to reserve these spaces. This dollar amount will be paid directly to the venue during or before the event.

Some venues will allow your guests to contribute towards the minimum spend via à la carte purchases at a cash bar. They will only charge you the difference between the minimum spend and the actual money spent by your guests at the end of the event. Other venues may need to charge the minimum spend amount before the event starts.

You can always ask if they can waive the minimum spend requirement, or use a lower dollar amount.

Bookings with an open bar. These are like minimum spend bookings, except the venue is agreeing to apply a set dollar amount towards an open bar or passed hors d'oeuvres… We think an hour of open is an awesome way to get people to come to an event, and arrive on time!
All offers will include a cancellation fee. This cancellation fee is ONLY applicable if you cancel after the full-refund cancellation period – which usually ends 2-5 days prior to the event date. The cancellation fee and the deadline for a full-refund cancellation will be clearly stated in the offer from the venue. The cancellation fee will also be applicable if you commit to a minimum spend requirement, but don't provide the payment.
NOTE: Instead of requiring a deposit for your booking, PRVT Party will put a hold on your credit/debit card 7 days prior to the event date in the amount of the cancellation fee. This hold will be released and all fees refunded if you cancel before the full-refund cancellation deadline.
Creating and Sending Invitations
While you're waiting on responses to your booking requests, why not get started on your invitation?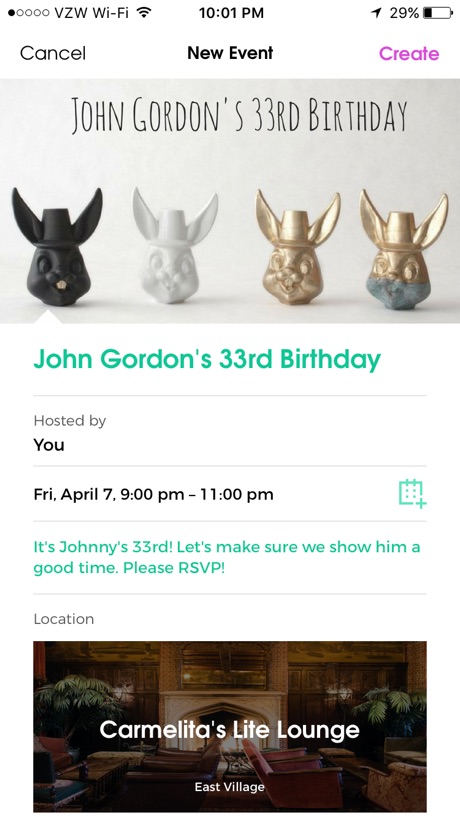 The PRVT Party invitation system is designed to make sure your invites get seen by your guests, not lost like a Facebook event invite or screened into junk mail. We sent out your invites via email and/or text message (we never post on Facebook and we never said Facebook messages).
For each guest on your list, you can customize whether they receive an email, a text message or both. You can take the contact information directly from your Phone contacts, so you don't have to bother entering names, emails and phone numbers manually.
For invitations that are sent by email, your guests will receive a photo or other image, along with the basic event info. To RSVP, they will need to click the RSVP link which will take them to an RSVP web page, which has detailed event info, including a link to add it to their calendar, as well as a full-sized version of the invite image (if it's been cropped for the email). They'll be able to RSVP and add a +1 if you've allowed that option.
Before sending out the invite, you can email yourself a preview – to make sure it looks right. If you send an invite via text message, this will include an invitation message and a link to the RSVP web page. (Guests do not need to have the PRVT Party app to be able to RSVP.)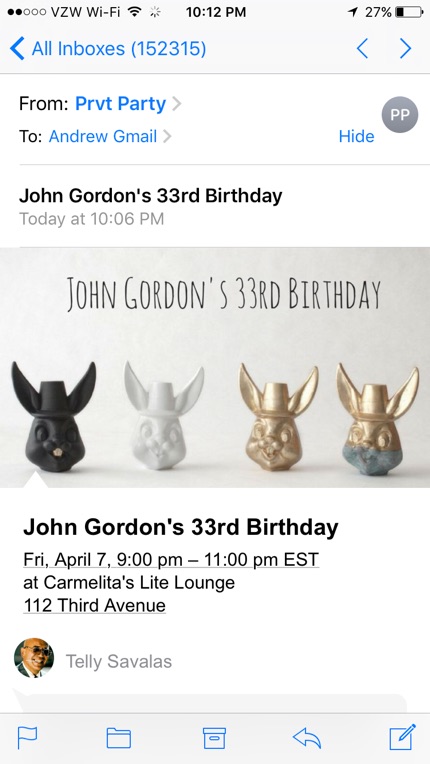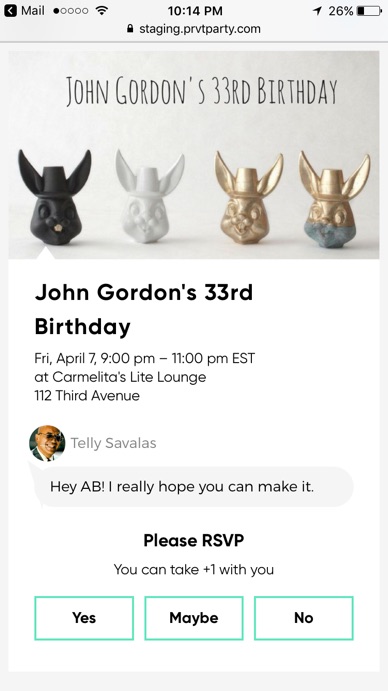 You can also add guests from your Facebook friend list if you connect your Facebook account. And lastly you can add some or all of the guest from a previous PRVT Party event with just one tap.
After you've added a group of people to invite, you can review the list one last time before hitting send. (You won't be able to send invitations until you've booked a space, but you can create and save your guest list prior to booking.) After you've sent the invites, you'll be able to track the RSVPs (see below), and also invite more people using the tools above.
We want to make sure your invitations make it through email spam filters and stand-out from the daily email deluge. We allow you to identify yourself as the sender by selecting what host name and email address will appear on the emailed invite. We also recommend that you add a photo or other image to your PRVT Party profile. This will help make your invite really stand out.
Tracking Invitations & Following Up
We wanted to make it easy to track your invites directly from the app. Once the invitation is sent, we will keep track of any situation:
Guest who've RSVP'd yes, no or maybe
Guests who are taking a plus 1
Invitations that haven't been opened
Invitations that have been opened, but not yet responded to
Invitations that weren't successfully delivered (because of undeliverable email address or phone number)
You can also send a follow-up message to any of the groups listed above (e.g. just to the guests who've opened the invite, but haven't yet responded), or you can send to all invited guests.
You can choose to make the guest list public. Guests will need to download the (free) PRVT Party app in order to see the guest list. Invited guests will only be able to see fellow guests who have RSVP yes, maybe or no (in that order).
Guests who have the app will also have access to an in-app chat wall.
Invite Image: Design Websites
Having trouble coming up with an image and formatting it. Just choose a photo or other image from anywhere, and use an online invite-maker to a flyer. We like Canva.com:
https://www.canva.com/create/cards/invitation-cards/
You don't need to add a lot of text since the email or text message will contain all the details
Pingg.com is another site.
Co-hosting
+ Co-hosting: We are working on implementing this feature. In the meantime, you can just temporarily edit the name in your profile to show two people's names. Both of these names will show up on the invite.
Get More People to Attend
As mentioned above, we think the best way to get people to come to your event (and arrive on time!) is to start it off with an hour or so of open bar. It is often less expensive than you might think.
I Don't Have an iPhone
We hear you! We are working on an Android version and regular website version. In the meantime, maybe try to pick up a used iPad or iPod Touch??
Will I Pay More if I Book through PRVT Party?
Nope! On the contrary, many of venues will offer specials here that they don't offer the general public.